COSTUME STAR
[ Divo in Costume - Elle Italia Oct. 2000]
He's one of the most appreciated actors of the moment. But he hates interviews and when he can, he goes to his cottage with friends. He adores red wine, latin women, costume movies. And after "An ideal Husband" he comes back in 1800 costumes for James Ivory.
It's a sunny morning and Jeremy Northam wears an unbuttoned blue shirt and a grey suit by Nicole Fahri (one of his favourite designers together with Paul Smith and Dolce & Gabbana).
He has a slim and fit body: "It's the Pilates gym", he confesses. He has a soft voice, with an Cambridge's accent, with low or whispering tones. While he's talking about his new movie (The Golden Bowl), he says a lot of "ehm" (Italian for "er" ), smokes a lot of cigarettes, perhaps to hide his cronic shyness. "There are many similitaries to me in the character I play, e.g. I can't do final choices", tell us with thoughtful tone. Maybe he thinks of his nine years love relationship with his girlfriend: they were going to marry and suddenly it finished.
He stays in Hollywood like at home, but he doesn't live there. Los Angeles is too chaotic for his British tastes: "If you aren't on the papers, you're nothing"... It's one of the most appreciated actors of the British cinema, but his hate for the star – system and his famous "allergy" to the interviews (that he considers a "masturbation in front of the people") allow him to lead a perfectly normal life in London, in the small apartment at Finsbury Park. Born and raised in Cambridge, in a good family (the father is one of the most important Ibsen's translators ), he has a degree in English Literature at the University of London and is also graduated at Old Vic Theatre School of Bristol.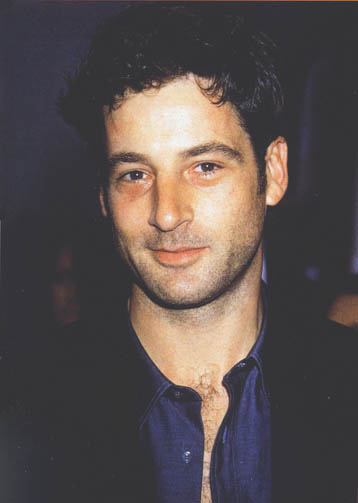 Jeremy Northam, 39 years old. Your last movie is The Golden Bowl, directed by James Ivory

After he played in theatre for 12 years in little roles, he had the big chance in 1989: "I had a little character in the Hamlet… that evening Daniel Day Lewis (who played Hamlet) had a nerves crisis and left the stage… all the people looked at me and I was like a animal in the trap… I didn't read those verses since months… ". Thanks to a nervous breakdown of Day – Lewis, he won the Olivier Award in 1990 and finally did a movie, Carrington, with Emma Thompson. His curriculum counts classical characters (The Winslow boy or An Ideal Husband) or unconventional characters as in the crazy Happy Texas (in which he plays a man escaped from jail, that's a fake gay). But he misses a naked scene: "Actually I'm naked in the Golden Bowl: the costume is a painting on my body". And talking about his attraction to the costume movies: "It's like I stink of 1800. I must take more showers ". Now, he's happy to spend some time in his country cottage of 1700, near by Norfolk. This is the place for meeting his friends. " But I dream to live in different places: in Roma, in Barcellona or Lisbon. I have sometimes this desire for sun, red wine, olives, for something that bring sweetness in my life " . He adores mediterranian women: "They're beautiful and sexy. I haven't many Italian friends, but in L.A. I've one very special. I'm fond of her very much. She's full of life and she's very passionate ". More clear than this…
©by Manuela Teatini for Elle Italia
©translated from the original Italian text by Ursula (Italia)
pic scanned by Anto
[ back to Movies and Newspapers ]